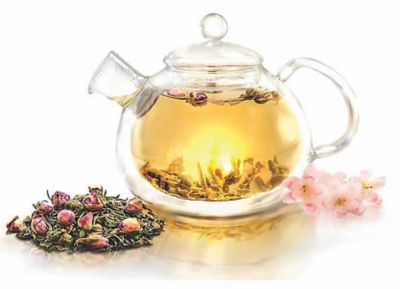 There are days when this girl just craves mints and chocolate. But when I face the number of calories and chemicals in a Thin Mint cookie, it is hard to enjoy them like I used to.
Luckily, Teavana, my favorite source for loose leaf teas has found the answer to my craving in their
Cacao Mint Black Tea
. For tea purists who don't like to mix it up, this is not your basic black tea. However, if you are willing to accept that teas can be mixed with a variety of fabulous natural ingredients to get new and unique flavors, then I recommend you check this one out.
One of the newer teas in the Teavana canisters, I have enjoyed Cacao Mint as both a morning tea (minty fresh breath without the chemicals of sugarfree gum!) and as a dessert tea (chocolate and mint in a warm liquid form = yum!). I have only had it warm, although I think it would make a perfect summer drink over ice with a sprig of fresh mint. I brew a 12oz mug with a half teaspoon of German Rock Sugar for a sweet low-calorie treat several times a week.
Black tea doesn't get the play that it's relatives White and Green have been getting lately. However it is just as effective as the others in providing health benefits.
Rutgers University
has done a number of studies on black tea including one that found a link between drinking tea and it's effects on colorectal cancer!
One of the comments I got on my last tea blog was about the cost of loose leaf teas. Cacao Mint is $6.80 for 2 ounces, which is a fair amount of tea considering you only use one to two teaspoons of leaves for each drink. I promise you spend more on a can of soda then you would one of these satisfying mugs of minty chocolate goodness.
Ingredients: Black tea, cocoa bits, hazelnut pieces and peppermint leaves.
Tea lovers... I would love to hear about your favorite teas and tea blends! Please feel free to share!