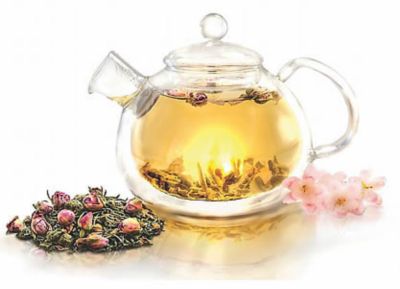 Growing up with an Australian mum and grandmum, whenever I was sick or stressed or cranky or tired, I knew what the cure would be. Tea. And while I have grown up and live on my own now, tea is still my go to for all that ails me. According to
scientists
at the Second International Science Symposium, the matriarchs in my family were right! My friends can tell you that when they complain about being sick, I tell them to enjoy some tea.
Having spent a fair amount of time looking for the fullest flavor and most benefits in a cup, I did some research. I wanted to explain to you why I primarily drink loose leaf teas and avoid the commercial bags. There are four general categories of tea leaves: Whole Leaf, Broken Leaf, Fannings, and Dust. Commercial tea bags get the dust and fannings of the tea which means that you don't get the full flavor of the teas. You can find more information about the different categories can be found
here
.
One of the great things about teas is how many types there are! Today, I want to take a closer look at White Tea. White teas are leaves that are not oxidized or cured. According to author
S. Elliott
, "Undergoing less processing than many other tea varieties, white tea can have ten times the antioxidant power of vitamin E and impressively high concentrations of polyphenols and catechins. This power punch can help fight the ravages of aging caused by free radicals in your system. It can also help lower cholesterol and inhibit the development of cancer cells. Side benefits include white tea's ability to help increase bone density, aid the immune system, and help lower blood pressure."
My favorite foodie stores is
Teavana
. I enjoy perusing the latest loose leaf teas and walking away with bags of beneficial finds. Teavana is what their name implies, a heaven of tea. In addition, they give away part of their proceeds to
CARE
which is totally awesome in my book. Plus they also take orders online which made it easy to get tea when I am away from my local tea shop.
Today, I am sitting in a hotel in Indianapolis trying out some of Teavana's
White Ayurvedic Chai Tea
.
Ayurveda
is a traditional medical system that originated in India and has existed over 5,000 years. According to the Teavana web site, "this Ayurvedic tea will keep you aligned and balanced in your everyday life. White tea has a very high amount of antioxidants, which help to reduce the risk of certain cancers and inhibit their growth. White tea has also been shown to strengthen your immune system, increase your metabolism, detoxify your body and hydrate your skin. By hydrating your skin, it reduces fine lines and wrinkles, which helps you look younger. Contains approximately 1% of the caffeine in a cup of coffee."
The first thing I do when I get a new tea is smell it. This is one of my favorite parts! I am sure people who see me giggle but there is nothing I enjoy more that inhaling over a new tea (or one of my favorites!). The White Ayurvedic Chai has a complex nose with strong hints of the cloves, pepper and cinnamon. In the back of your nose you can smell the sweetness of the lemongrass. There is also coconut in the blend which may be the smooth sweet smell that ties the package together.
I added 1/2 a tsp of
German rock sugar
to a 24 ounce pot which was plenty (and added less than 20 calories to the whole pot)! This tea is sweet and spicy all at once. It does not need any other additions because the flavor is full and rich without being overpowering and too spicy like so many chai teas on the market. When the tea first hit my mouth, the smooth sweetness of the coconut glides over my tounge, leaving behind the subtle spices that almost overpowered the unbrewed nose. The complexity of the flavor leaves me drinking more, so I can continue to find ways to describe how much I am enjoying it!
Because the caffine content is so low, I enjoyed it as my dessert after a long day of traveling. It was so good I drank four cups! I strongly recommend this tea to anyone who is looking to improve their health while enjoying a flavorful cup of goodness.